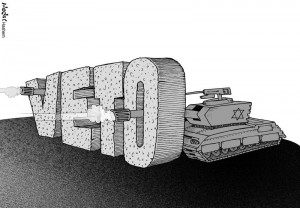 Before the 2003 Iraq War Russia, China, France and Germany opposed the US resolution to 'legalise' the war. 
The BBC fully endorsed their stance because it opposed the war itself.  No questions were ever asked about why any of these countries were opposing the resolution….was it for some humane anti-war reason or the reality…a grubby backing of a murderous dictator for commercial and geo-political reasons.
The vetos were therefore themselves 'illegitimate' being based upon self interest rather than wider considerations such as the desire for a peaceful and humane resolution.
If such vetos are allowed then it negates the whole purpose of the UN as a world 'policeman' which arbitrates world affairs through a moral and legal framework..not on whether a country has trade deals  with another.
Scroll forward to the present and  Russian and China are refusing to back UN resolutions that attempt to pressurise Syria to come to terms.
This time though the BBC find their opposition not to its liking and gives its backing to the 'rebels' which might also be considered a strange volte face….how often have we been lectured that the US helping Islamist Mujahadeen to fight the Soviets in Afghanistan lead to the creation of Al Qaeda?
Now the Islamists are flavour of the month fighting for 'freedom'.
Peter Hitchens in the Mail spells it out.