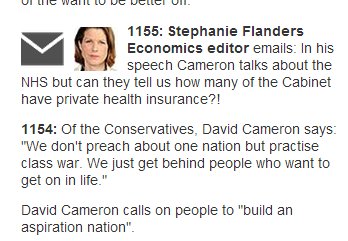 Stephanie Flanders, has notoriously has slept with both Ed Milliband and Ed Balls. She is "nauseated" by Conservatives. So she is ideal as the Economics Editor of the BBC then.
"In his speech Cameron talks about the NHS but can they tell us how many of the Cabinet have private health insurance?!"
So Stephanie … do you?
We know you send your two children to public schools so it's not as though being a hypocrite is out of character….
EDIT: It appears that Flanders has stealth edited her post to shift the comment on to an unverifiable "viewer contribution" hence two screenshots of the same post showing different text. Nice. And can't be checked of course.
At least on Biased-BBC we document our edits.