Jon Donnison has been shipped out of Gaza back to his new stomping ground in Oz.  Lucky them.
Still, it hasn't stopped him bothering us with his anti-Israel schmutter:

Donnison has many, many other fascinating insights about Gaza but oddly not much about Australia.   I won't bore you with the complete run down but he also links to the other usual suspect, Kevin Connolly:

What indeed does the future hold for the children of Gaza?
Connolly says:
I find myself worrying what the future holds for them.
Gaza is cursed by history and geography as surely as it is blessed by nature.
No, Gaza is cursed by having a murderous bunch of thugs in charge.  If the children's future is blighted by war and oppression perhaps they should look closely at their own government which has led them down the road to ruin for the last 70 years.
Connolly however has a degree of sympathy for poor old terrorist Hamas:
In times of peace it has no diplomatic cards to play against the Israeli government. When violence flares, as it has done this month, it can at least demand concessions in return for agreeing to stop again.
These confrontations are hopelessly asymmetrical. Many of Hamas's rockets are out-of-date or home-made, compared with Israel's powerful and sophisticated weapons.
This is a desperate time for Hamas.
So unfair…Israel defends itself against terrorism and thousands of rockets launched at it and successfully prevents many thousands of casualties in Israel…and Connolly thinks that's a bit unfair.
Connolly goes on to tell us:
And yet, decisive victory seems to elude Israel, just as it eludes Hamas. The fighting will probably end in ways which are ambiguous and unsatisfactory, just as it has in the past.
I wonder why a decisive victory eludes Israel…could it be that when it begins an operation to crush Hamas the BBC et al start their own campaign to crush Israel and stop the war?  Perhaps if Israel were able to take over Gaza and eject Hamas they might be able to turn Gaza around and improve the future prospects of all those children….perhaps the BBC should stand on the side of those who seek to destroy Islamic terrorists.
But wait….the children have no prospects?  Who then attends all those universities and colleges in Gaza?
Gaza Strip Universities

Here's a list of faculties in the Islamic University in Gaza….'Rocketeering' is night classes only: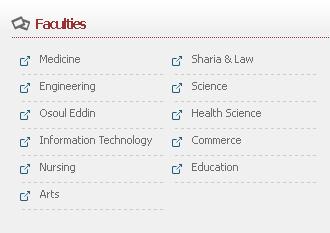 Guess the BBC isn't telling us the whole truth…not the real cause of any limited futures and not the prospects that many Palestinians do actually have.
And who built much of the infrastructure in Gaza?
In the years after the 1967 War, Israel invested heavily in the West Bank and the Gaza Strip, building hospitals, universities, public schools and new roads, improving the water supply and increasing the production of electricity available to the Palestinians.
In the 1980's Israel completely refurbished al Shifa hospital…only for Hamas to use it as a base for their HQ.
And why is Palestine reliant on so much foreign aid?
Economic decline followed the onset of the Intifada which began in December 1987. The Palestinian economy suffered another blow after the first Gulf War, which disrupted the economies of the Gulf Region, where many Palestinians found work. (Palestinian support for Saddam Hussein's invasion of Kuwait resulted in many Palestinians being forced from that country after the war.)
Just as Palestinians living in the West Bank and the Gaza Strip enjoyed substantial increases in well-being under Israeli rule before the Intifada shattered economic relations between Israel and Palestinians, the increase in living standards for Palestinians in the 1990s was set back sharply as a result of the terror war launched against Israel in 2000.
And what of that 'World's biggest open prison'?
There certainly are restrictions on movement but it seems Gazans can travel out of Gaza quite legally….Gaza has many travel agencies:
We went from Gaza to Egypt and from Egypt to Turkey legally.