There were great expectations in the corridors of the BBC…George Osborne was going to announce the latest borrowing figures and the deficit would be rising, they just knew it!...'On Wednesday we get the Chancellor's Autumn statement and it looks almost certain he will have to announce worse than expected figures for the deficit' ….a damning verdict on the 'Tory' government and its economic policies…the deficit is 'hanging around the nation's neck like a yuletide log!'…apparently.
Didn't happen, the deficit is going down….Dominic Laurie must have been gutted having earlier announced that he was intensely interested in those borrowing figures….strange that after they were announced he, and the rest of the BBC, didn't really want to talk about the deficit itself too much, preferring instead to express shock and amazement at the evergrowing national debt and the fact that it was rising…well it woud be…as long as you have a deficit you will add to the debt even if the deficit is getting smaller…as it is.
After the Autumn Statement the first reaction of Dominic Laurie was to call Osborne's budget a 'conjuring trick' and Jon Pienaar claimed the borrowing figures were merely a result of a different way of looking at the figures…the day before when Osborne announced his spending plans for infrastructure spending Nick Robinson dismissed them as promises that will never be fulfilled…pre-election hype….and the BBC in general dismissed the spending as 'old money' and not shovel ready….never mind that they are shovel ready and the spending on infrastructure, so long awaited and urged by the likes of Flanders, has finally arrived after the government implemented planned spending cuts on infrastructure that it inherited from Labour in 2010.
The BBC's approach is entirely negative and seems determined to undermine any 'good news' and paint an entirely bleak picture of the economy…depsite it being one of the best performing in the world at the moment…yes inflation is down, yes interest rates are low, yes unemployment is low, yes growth is ticking along nicely…but you know what….the economy's dire…the figures are 'terrible!'
So just how big though is the national debt…and is it bigger than expected?
I seem to remember that way back in 2010 the projections for national debt were that by 2015  it would be around £1.4 trillion…so what is the national debt today?

So that'll be £1.4 trillion…as projected…here is Price Waterhouse Cooper's projection from 2010...Government general debt £1.4 trillion: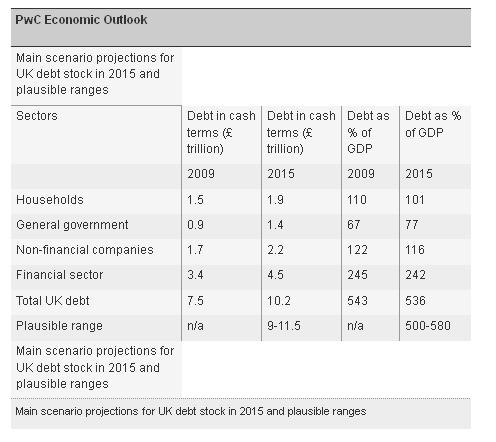 Funny how those 'on the money' projections are conveniently forgotten by the BBC's, and others who should know better, economics experts.
Here is Peter Allen, (10:37) who has spent years doing stories on austerity and the economy expressing astonishment, his incredulity, at the size of the national debt…he tells us it is a frightening debt…an economy not under control…we won't do anything about it but we must do…you can't carry on like that …..especially, he adds, as the threat from global warming is so severe…don't ask me…at the beginning of the programme he said he would rather be talking about the dire threat of global warming than anything else.
Allen tells us that he'd never thought of the debt before, certainly not as a problem of that magnitude…pretty strange really…his ignorance didn't stop him talking about the apparent 'misery caused by austerity' for years on end…and it could explain a lot about BBC coverage of austerity and the need for belt tightening…..they just buried their heads in the sand and hoped Labour would get in next time if they banged the drum for them enough.
You just know that whatever measures the government takes to rein in spending the BBC will be there with the Labour nay sayers, the charity shroud wavers, the selected voices of the 'common' man and woman telling us how austerity has ruined their lives…in fact carrying on pretty much as it has done for the last 4 years opposing every move the government makes….despite Allen proclaiming 'something must be done!'.
The BBC certainly seemed to be banging the drum for Labour today… Laurie telling us that what we need to put the economy back on its feet is a rise in wages….em…a 'living wage'…heard that before somewhere…..Justin Webb told us that in relation to taxation we should perhaps be implementing new measures as corporation tax is so difficult to collect…perhaps a tax on wealth…he'd heard, he said, (08:50) some interesting ideas from Labour on that…something like  a 'mansion tax'…never mind that it has been roundly condemned as unworkable by just about everyone who is even remotely connected to the real world.
We are also hearing a lot about that 'tax gap' as tax revenues aren't as high as needed…..many experts have voiced their opinions in BBC studios…that it is a result primarily of a flood of low skilled workers on low wages who don't pay taxes.
Curiously the BBC doesn't make a link to immigration on this….the one time I heard someone mention it was to dismiss it as an unproven theory….they said that people often say that there is a link between having a large pool of labour and low wages, but the BBC told us there was 'no clear analysis' to prove this.
Really?  Would have thought it was one of the fundamental principles of economic theory.
Guess the BBC lets its own 'principles' get in the way of the facts…can't have them ruining a good story.
Immigration has lowered wages, put British people out of work and reduced the tax take…and 400,000 immigrants get tax credits…..
So in summary, the BBC is entirely negative about the Autumn Statement, ignorant of the national debt….until now, just when Labour are making a lot of noise about it…coincidence?  I think not.  BBC journalists hype the mansion tax and the living wage…and dismiss links between immigration and low wages and low tax receipts….oh, and dismisses Osborne's spending plans as electioneering hype…and there is a 'detachment between government policies and the realities of the economy'.  Never mind that the economy seems to be doing reasonably well all considered.
Not a bad days work.  Saves Labour a lot of money on a party political broadcast.