Have you seen the reports of ISIS executing people for being gay?  Not on the BBC….nor it might be added has the caring Media Hasan made any comment despite his opportunistic and disengenuous little tweet here:

And he is outraged at blood being spilled in the name of the prophet….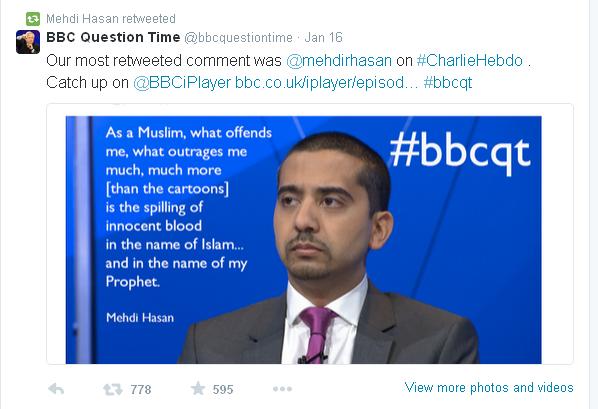 ….Just, it seems, not 'gay blood'.
Perhaps he's not got over his youthful homophobia….
As a Muslim, I struggle with the idea of homosexuality
I'm sure he's on his knees right now praying for gay people.
Still, good to see the BBC still have room for the odd comic charlatan to bring a bit of light relief to Question Time….no time though to report on the horrific killings of these gay people.  Why not?
Hasan gets a free ride on the BBC.  Outside the BBC he has a reputation for hypocrisy and lies as well as for his Islamist rants denouncing the Kafir.  About time the BBC did some due diligence and started to question just what does Hasan really believe as a devout, fully believing Muslim and allow people to see him for what he really is rather than letting him pose as the reasonable voice of the 'alienated' Muslim community…and think about this…Hasan is a Shi'ite…Shias do produce images of Muhammed….so his public stance against the cartoons is pure show biz…or blatant hypocrisy and political opportunism…..
When it suits the BBC doesn't like to raise difficult subjects if it shows their favoured groups in a bad light…remember when Hamas slaughtered Fatah members in Gaza, some thrown off buildings?  The BBC dismissed the massacre as Hamas merely 'flushing out the corrupt and violent Fatah'.  
Then there is this guy, long time convert, Dr Abdal Hakim Murad…what does a respected Islamic scholar have to say about homosexuality?:
"INEXPLICABLE ABERRATION": Cam Lecturer Slates Homosexuality
1st May 2013
Divinity Faculty lecturer Tim Winter labels homosexuality an "inexplicable aberration" in a hastily removed YouTube video.
An eight-minute clip of [Dr Abdal Hakim Murad] 'Tim Winter', a Cambridge lecturer and a Director of Studies at Wolfson College, has gone viral on Facebook after he referred to homosexuality as an "inexplicable aberration". 

The clip appears to have been taken from his recent DVD, Al-Ghazali on Disciplining the Soul, in which Winter, a practicing Sufi Muslim, discusses at length the Sharia's  "emphatic, unqualified condemnation and prohibition of all forms of homosexual behaviour".
Drawing from the Sharia but expressing his own personal opinion, Winter, also known as Abdal Hakim Murad, refers to homosexuality as a "denial of [our] manifest creative purpose", labelling it the "ultimate inversion".
He goes on to refer to homosexuals as "ignorant people…[who] don't understand what their bodies are for".
He adds, "How ignorant can you get? Even the animals know".

[He said] homosexual acts were an 'extreme defiance of Allah'.
He went on to compare gay people to smokers, affirming that practising homosexuality is more dangerous than smoking.
'There is a great war against cigarette smoking but there is no campaign at all against the vice of the people of Lut [ie people of Sodom, or homosexuals]'
The good Dr Abdal Hakim Murad also, of course, has something to say about recent events…apparently the killing of cartoonists who offend him and his fellow ideologists is, well, uncontroversial…but sanctioned by, not the Koran, but the Bible!…
He invokes the Bible, it's second Commandment, as a defence for the killers….
Muslims believe in every jot and tittle of the Second Commandment. We are to make no graven images of any living thing, irrespective of whether such images might or might not lure the unwary into idolatry. Orthodox Judaism and many Protestant churches have been similarly direct in following this biblical injunction.
Funny thing…can't find any mention of the second Commandment in the Koran….indeed no injunction on making graven images of the prophet at all.
It is an irony that a Muslim has to invoke the Bible to defend Islam…and telling porkies in the process to do so…..below are the verses in the Koran that mention the Ten Commandments…or rather some of the Commandments…notably missing is the second one….
The Quran speaks of them in verses 6:151-153 and verses 17:23-39….it commands you to worship one God only but it says nothing about graven images.  Sorry about that.
Now Muslims may or may not ' believe in every jot and tittle of the Second Commandment'  but it ain't in the Koran.
Ironically the Islamic scholar that he is dismisses the murders as…' the acts of criminals with troubled pasts and little religious knowledge, and have been condemned by a rare show of unity among Muslim leaders in France and worldwide. '  Can't say much for his own knowledge.
But, again, ironically,  he says this…' it would be easy to dismiss this as yet another tragic case of fringe elements trampling on the teachings of the mosques.'
And yet that is exactly what he does.
And then he really gets on the victim bandwagon telling us that the cartoons were outrageous, an act of war he implies,  just another log on the fire stoked under long suffering Muslims by rampant Islamophobes who stalk Europe hunting down Muslims…
It was received, and rightly so, as a deliberate insult to an already maligned and vulnerable community.

Mosque burnings and a raft of legal disadvantages are increasingly a fact of life for Muslims in Europe.
er..hang on…who just killed 10 cartoonists and 4 Jews, and 3 police officers?  And just where do the Jews fit into this 'rampant Islamophobic' atmosphere that needs such a violent response from Muslims?  What exactly did those Jews do to French Muslims?  Oh, you know what, he doesn't mention them at all.
Here's the funny equation….Muslims launch terrorist attacks on Europe in the name of Allah, the response by Charlie Hebdo is to draw some cartoons….the Muslims claim this is Islamophobic and kill them.  Islamic scholar implies this is justified and complains of endemic Islamophobia.  Fair one.
Sorry don't quite see where Islamophobia fits in….it isn't as if criticisms of Islam, this alleged Islamophobia, came from nowhere …it arose as a response to Islamic terror.  Is it not merely a justified questioning of an ideology that patently is at the heart of so much violence around the world?  'Islamophobia' is the 'backlash' to Muslim anti-Western attacks.  If it is OK for Muslims to kill 10 cartoonists as a 'backlash'  for some drawings then it is OK to do a bit of Islamophobic backlashing for the murders no?  That's the logic….and remember, most of this so-called Islamophobia is in fact entirely peaceful articles and news reports looking at the terrorism and the ideology that spawned it.  Murad thinks Muslim 'anger' justifies their actions but anyone elses anger is unreasonable and some sort of hate crime.
Murad then goes full tilt [Remember this is the guy who said Gays were a perverse aberration, lower than animals] making out Muslims are the 'new Jews'…how ironic..when Muslims just killed Jews for being Jewish:
Scorn towards despised minorities is a hazardous business. During the days of Nazi terror, cartoons supplied a key weapon of anti-Jewish polemic. To laugh at the Prophet, the repository of all that Muslims revere and find precious, to reduce him to the level of the scabrous and comedic, is something very different from "free speech" as usually understood. It is a violent act surely conscious of its capacity to cause distress, ratchet up prejudice and damage social cohesion.
Finally he recommends that Muslims launch a war of legal attrition against the secular democracy….the good old Islamist tactic of 'lawfare'…
It is for the many Muslims who now populate the Inns of Court to discover whether these legal precepts can in practice be used to protect non-Christians from abuse. A series of complex cases would trigger an overdue national and perhaps Europe-wide discussion on the right to protection from hate speech. Not all the lawsuits would succeed, but the community would have shown that it is determined to enjoy the protection of our country's laws.
One day Muslims will admit the truth and take responsibility for their own action and stop blaming others.
And the BBC will start to raise a few questions themselves about Islam….and perhaps take a more questioning approach to who they invite on as speakers on Question Time.
The BBC is going full tilt themselves with the Muslim grievance narrative…time they drew a breath and started to look at what is being said and who is saying it…and the logic, or lack of logic, behind the claims.
Here is a particularly good example of the genre from 'Is the BBC biased?' where Islam isn't to blame…and of course UKIP manages to be invoked and compared to the Jihadis….!!!!   Is the BBC biased? has many more such examples from recent programmes…have a read and despair.
But before you do have a read of this…..some more 'context'….
What does Islam say?, as taught by the moderate and respected Yusuf Qaradawi [Ken's old mate]:
"Whoever you find committing the sin of the people of Lut, kill them, both the one who does it and the one to whom it is done."
(At-Tirmidhi: 1376)

Sexual Perversion: A Major Sin
We must be aware that in regulating the sexual drive Islam has prohibited not only illicit sexual relations and all ways which lead to them, but also the sexual deviation known as homosexuality. This perverted act is a reversal of the natural order, a corruption of man's sexuality, and a crime against the rights of females.
The jurists of Islam have held differing opinions concerning the punishment for this abominable practice. Should it be the same as the punishment for fornication, or should both the active and passive participants be put to death?   [This line should be in the text but was cut out ……"How should they both be killed? By the sword? Or by fire? Or by throwing them from a wall?"]  While such punishments may seem cruel, they have been suggested to maintain the purity of the Islamic society and to keep it clean of perverted elements.
And what about the fair sex?  How about that respect we are so often told they get?…
Marital rape?

Your wives are a tillage to you, so go in to your tillage as you will, and send (ahead something) for your souls; and fear Allah and know that you will (one day) meet Him, and give glad tidings to the Believers. (2:223)

Wives are 'filth'?

It is not a function of religion to define the postures of sexual intercourse. However, a Muslim who fears Allah in his relationship with his wife and possesses the certainty that he will meet Him avoids the anus because the Prophet (peace be on him) said, "Do not approach women from the anus." (Reported by Ahmad, al-Tirmidhi, al-Nisai, and Ibn Majah.)
Again, he referred to such an act as "minor sodomy." (Reported by Ahmad and al-Nisai.) A woman of the Ansar asked him concerning vaginal intercourse from the back; he then recited to her, 'Your wives are a filth to you, so go in to your filth as you will,' but with only one receptacle.

Obey the Master

Because of his natural ability and his responsibility for providing for his family, the man is the head of the house and of the family. He is entitled to the obedience and cooperation of his wife, and accordingly it is not permissible for her to rebel against his authority, causing disruption. Without a captain the ship of the household will flounder and sink. If the husband senses that feelings of disobedience and rebelliousness are rising against him in his wife, he should try his best to rectify her attitude by kind words, gentle persuasion, and reasoning with her. If this is not helpful, he should sleep apart from her, trying to awaken her agreeable feminine nature so that serenity may be restored and she may respond to him in a harmonious fashion. If this approach fails, it is permissible for him to beat her lightly with his hands, avoiding her face and other sensitive areas. In no case should he resort to using a stick or any other instrument which might cause pain and injury.
Charming.