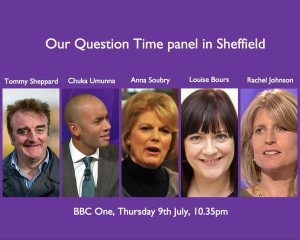 David Dimbleby presents the last show in the series, from Sheffield, South Yorkshire. On the panel are UKIP MEP Louise Bours, Conservative (in name only) MP Ken Clarke, the SNP's Tommy Sheppard MP (Yay!), Labour's Chuka Umuna and journalist Rachel Johnson. I'm so glad to see that the huge demand for the SNP in England has not gone unheeded.
Kick off Thursday at 10.35 pm
Chat here
Register here if necessary.