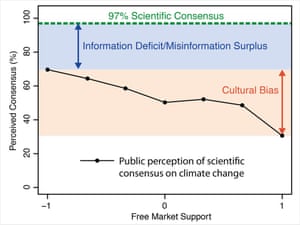 No expert on statistics but looking at this I would say the 97% claimed stat for scientific consensus on global warming is a crock….
We analyze the evolution of the scientific consensus on anthropogenic global warming (AGW) in the peer-reviewed scientific literature, examining 11 944 climate abstracts from 1991–2011 matching the topics 'global climate change' or 'global warming'. We find that 66.4% of abstracts expressed no position on AGW, 32.6% endorsed AGW, 0.7% rejected AGW and 0.3% were uncertain about the cause of global warming. Among abstracts expressing a position on AGW, 97.1% endorsed the consensus position that humans are causing global warming.
So hang on……66.4% expressed no position on the causes of global warming…
but……32.6% endorsed the alarmist position.
And the 97%?
The 97% is 97% of that 32.6%, or least of 'those who expressed a position', which definitely counts out the 66.4% who expressed no position and is even more definitely not 97% of  'all scientists'…by my reading of that explanation.
So maybe around 33% of the literature openly supports the man-made climate change theory.
I'm sure someone will  put me right.
NB…Not as if the author of the study isn't a climate change campaigner himself…
An interesting sequence of events followed the publication of a scientific paper I co-authored in May last year. The paper found a 97% consensus that humans were causing global warming in relevant scientific papers.  [Really?…see above]

So there is still much work to do. Several decades of casting doubt on the consensus has contributed to maintaining the consensus gap. This is why communication experts urge scientists to communicate the 97% consensus. This approach is based on a growing body of evidence underscoring the important role of perceived consensus and the necessity of consensus messaging.
Amusing to see this from our old mate Richard Black in 2007..
Of all the accusations made by the vociferous community of climate sceptics, surely the most damaging is that science itself is biased against them.

"The research itself is biased," as one recent blog entry put it.

"Scientists are quick to find what they're looking for when it means getting more funding out of the government."

That particular posting gave no evidence to support its claim of bias. I have seen none that did, which made me wonder whether there was any evidence.
Naturally Black couldn't find any convincing evidence of that….but the above surely is where "Scientists are quick to find what they're looking for."  97%?  That'll do nicely.