Imagine my surprise when I heard 5Live telling us in concerned tones that anti-Semitism was on the rise in universities.  I was surprised because it was not four weeks ago that I was posting about the BBC scrambling to put out a counter to claims that anti-Semitism was rife at universities.  I guess the BBC didn't want our Christmas to be spoiled with all those claims reminding us that the Jews killed Jesus.
Four weeks on and, well, it's not really the BBC's choice of subject, it's a Jewish guest editor's choice….the BBC really are getting all diverse and multicultural.  Oh..hold on…she maybe Jewish almost certainly left-leaning and of a BBC persuasion…anyone who uses the words 'uplifting' and 'privileged' is definitely suspect.  Suspicions unfortunately confirmed by just about every other word.  She's a guest editor on the BBC for a reason.
So anti-Semitism is rising in universities?  Well not in this alternate universe.  The BBC seems to have found another Jewish student in complete denial or too scared to tell the truth.
Anti-Semitism is rising in universities not because of fellow students, of whatever ideological persuasion, but because of outsiders, neo-Nazis, Fascists, the Far-Right…..and of course Islamophobia is a concern for her.  In fact Jews and Muslim students get along just fine….people who face the same oppression must unite our guest editor tells us.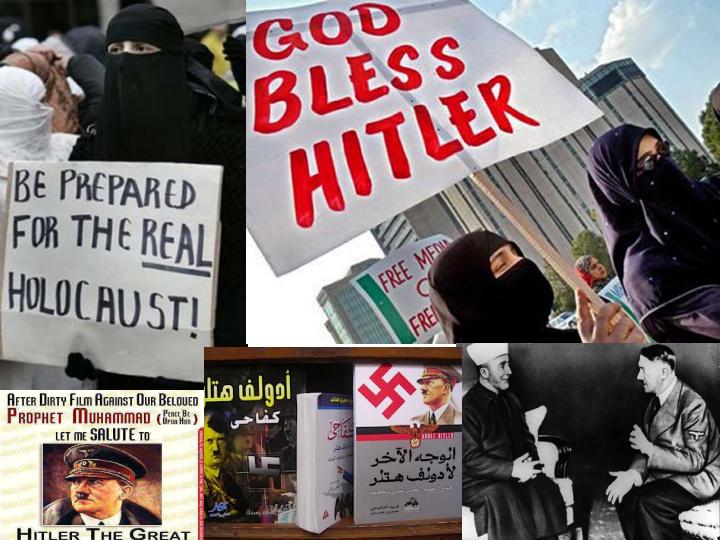 She tells us of some graffiti that said 'Hitler was right'.  Hmmm…Seem to remember that's something that comes out of the mouths of highly respected moderate Muslim preachers…..
Sheikh Yousuf Al-Qaradhawi: Throughout history, Allah has imposed upon the [Jews] people who would punish them for their corruption. The last punishment was carried out by Hitler. By means of all the things he did to them – even though they exaggerated this issue – he managed to put them in their place. This was divine punishment for them. Allah willing, the next time will be at the hand of the believers.
Still, it's got to be those neo-Nazis, not a single word about Muslim anti-Semitism nor indeed Labour Party anti-Semitism.
Nihal expressed surprise at the graffiti and said he couldn't believe that in 2017 this was the world we live in…well, Nihal, it's the world that the BBC's reporting  has helped create with its remorseless and maliciously anti-Israel/Jewish 'reporting.
The CST gave some facts, it put some numbers to the anti-Semitism.  And indeed white boys were responsible for 55%.
But hang on….45% was down to essentially Muslims…or Pakistanis, Arabs and Blacks [how many are converts?] as the man rather coyly called them.  So 45% is due to ethnic minorities, basically Muslims…of which there are under 3 million, what 4-5% of the population?…and how many Whites?  87% or so of the population is White….so 45% of anti-Semitism is due to 4-5% and the rest is due to 87% of the population…telling figures no?
But hang on again, there's one more wrinkle…not all the white boy anti-Semites are Far-Right neo-Nazi Fascists…many of them are of the Left….reference Labour.
So when the BBC tells us that Britain is getting nastier and more racist due to a rise in the Far-Right due to Brexit one look at the figures tells a completely different tale.
Shame everyone seems to scared to say anything…or are lying through their teeth.