Can't imagine the BBC not taking a look at Channel 4's run-in with Labour's Tulip Siddiq if she'd been, oooh, say Boris, or any Tory in fact, as she refuses, with menaces and deft playing of the race card, to help a Bangladeshi man who has been 'vanished' by the government there….a government led by her aunt.….she can't help because, she says,  the man isn't her constituent.  However she's not usually so strict in her application of defining boundaries as to whom she helps….
Siddiq is keen to back Israel and says non-Jews can help in the fight against anti-Semitism…Is Israel in Hampstead?
Or how about this posted just a couple of weeks ago celebrating her time campaigning for Obama to be US President:  'We must keep fighting for positive politics across the globe!'…except in Bangladesh where her aunt has locked up a lawyer who is the son of a political opponent who was hung by her government.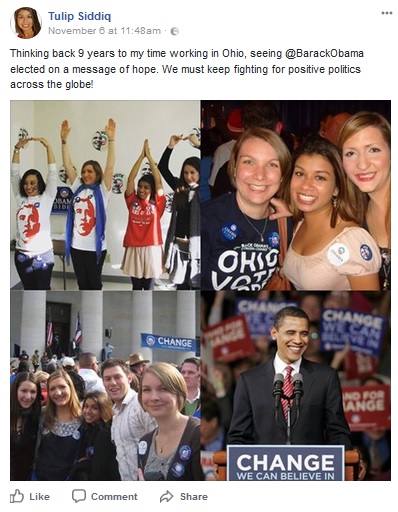 She challenged Putin about gay rights in Russia…
Tulip Siddiq once challenged Vladmir Putin over his record on gay rights. The Labour candidate for Hampstead and Kilburn had travelled to Moscow in 2013 to see her aunt, Sheikh Hasina, the Bangladesh Prime Minister. Hasina took Siddiq to a meeting with Putin.

"You have the man in front of you, why wouldn't you ask for his stance on the treatment of LGBT people in Russia?" the fast-talking 32-year-old asks. "He avoided the question. But I can tell my grandchildren I did it."
Shame she can't challenge her own aunt on human rights in Bangladesh…maybe her grandchildren would be proud….she has the phone number of her aunt right in front of her…so why wouldn't she?
The Telegraph and Mirror, and even Mumsnet, have covered the story….why not the BBC?  And when they do eventually work out how to present this story will they try to downplay it and make C4 out to be the villain?