A report by Rajini Vaidyanathan about the forthcoming trial of George Zimmerman for the shooting of Trayvon Martin takes a clip of Zimmerman's phone call to the police completely out of context to give the impression his actions were racially motivated.
Here's the relevant segment:
Vaidyanathan: He was unarmed, carrying a bag of sweets and iced tea. He'd been spotted by George Zimmerman, a neighbourhood watch volunteer. Believing the teenager was acting suspiciously, he called the police.

Clip from Zimmerman phone call: He's got his hand in his waistband… and he's a black male."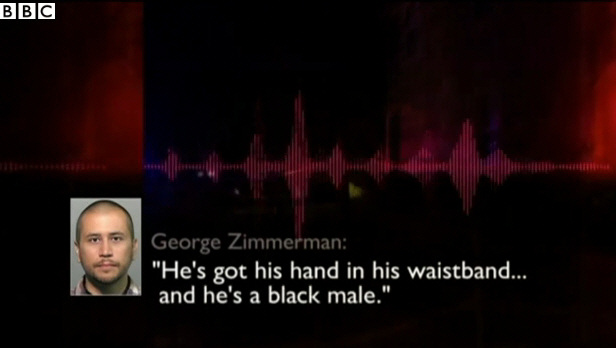 Now here's the context of that clip taken from the full transcript of the phone call:
Dispatcher: OK, and this guy is he white, black, or Hispanic?
Zimmerman: He looks black.
Dispatcher: Did you see what he was wearing?
Zimmerman: Yeah. A dark hoodie, like a grey hoodie, and either jeans or sweatpants and white tennis shoes. He's here now, he was just staring.
Dispatcher: OK, he's just walking around the area…
Zimmerman: Looking at all the houses.
Dispatcher: OK…
Zimmerman: Now he's just staring at me.
Dispatcher: OK-you said it's 1111 Retreat View? Or 111?
Zimmerman: That's the clubhouse…
Dispatcher: That's the clubhouse, do you know what the-he's near the clubhouse right now?
Zimmerman: Yeah, now he's coming towards me.
Dispatcher: OK.
Zimmerman: He's got his hand in his waistband. And he's a black male.
"And he's a black male" is obviously confirmation of his earlier response to the dispatcher. "He looks black" was Zimmerman's first answer. A short time later he gets a better view so he confirms the fact. The BBC's report takes this clip out of context to make it seem as if Zimmerman's reference to Martin's skin colour was unsolicited, an off the cuff remark rather than a fact that had been requested of him. That is to say, the BBC is trying to imply a racial motive.
This is utterly disgraceful, especially given the fact that last year NBC was forced to fire a journalist for broadcasting an edited version of the above Zimmerman phone call that also made him seem racist. I don't think the BBC's out of context cherry-picking is any better.
I've already mentioned in the Open Thread that Mark Mardell has written an article about racial tensions ahead of Zimmerman's trial in which the BBC's North America editor contrives to ignore the fact that Zimmerman is Hispanic. To do so would muddy Mardell's narrative, which is literally black and white. Rather than go over all that again (and the BBC's selective use of photos for this story) here's the link to my earlier comments.
It seems that the BBC has decided on the story it wants to tell about the Zimmerman case, and it's going to tell it regardless.