Despite having left Gaza three weeks ago Donnison is still banging the drum for Hamas and looking to undermine the Israelis:


Curiously he doesn't link to this:
Palestinian Authority President Mahmoud Abbas accused Hamas of needlessly extending the fighting in the Gaza Strip over the past two months, causing a high death toll.
Abbas told Palestine TV in remarks broadcast Friday that "it was possible for us to avoid all of that, 2,000 martyrs, 10,000 injured, 50,000 houses (damaged or destroyed)."
He does bring us this: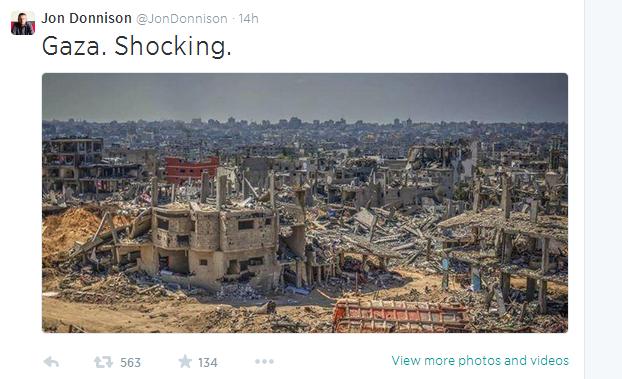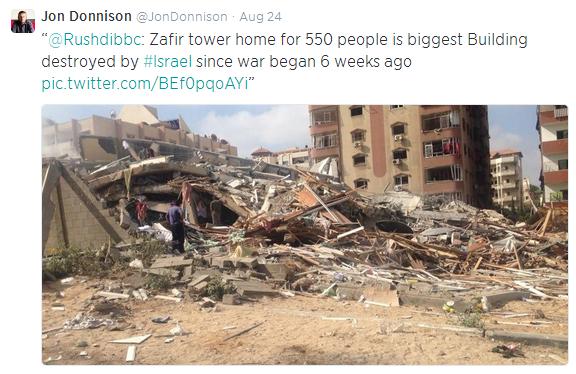 Which reminded me of this:
The Propaganda Power of Images
How the Nazis Used War Rubble as Propaganda
As the Allies marched inexorably northward through Italy during World War II, the Nazis set to work photographing the rubble of damaged historical buildings and artwork. The images were supposed to prove that their enemies were cultural barbarians.
The images bear witness to the slow shift away from art preservation and toward Nazi regime propaganda undertaken by the German art historians active in Italy during the war. Despite their efforts, many of the monuments and buildings they sought to protect were destroyed by the Allies. The Germans themselves were pushed ever further into northern Italy. Before long, the German military and the Nazi propaganda machinery recognized the potential of using the destroyed buildings to portray the Allies as culturally insensitive barbarians….
Before long the unit once responsible for protecting Italy's cultural heritage began delivering images of emotional images depicting devastated palaces, churches reduced to heaps of rubble and shattered sculptures. Accompanying text ensured that the message of the images was not misunderstood. Often, the images were produced by photographers belonging to so-called propaganda companies and they would end up in brochures depicting sites both before and after their destruction.
The famous German art historian Ludwig Heydenreich also took part in the propaganda war in Italy. He had hundreds of pictures taken and wrote contributions for brochures on "the war against art" in which he spoke of the "enemy terror attacks.
I get the impression Donnison is a lightweight who just wants to be liked and, like George Galloway, is willing to sacrifice his integrity and professionalism, taking the lazy route to popularity by saying things he knows will get him the most plaudits regardless of who it is that is applauding him.
He knows that to publish anything that might make Israeli actions in anyway jusitified would be the kiss of death as not only would he be deluged by a torrent of left wing and Muslim abuse, his colleagues would surely cut him dead.  He certainly gets abuse from pro-Israel supporters but he can salve his conscience by readily dismissing them as nutters, racists and Islamophobes…as indeed he did.
Here is an example of his desperate, needy, cry for approval…proclaiming life is so #wrong  and it's an #unfairworld:…
….BUT did he ever offer his body armour and helmet to anyone in Gaza?  No?  Life so unfair and wrong!…..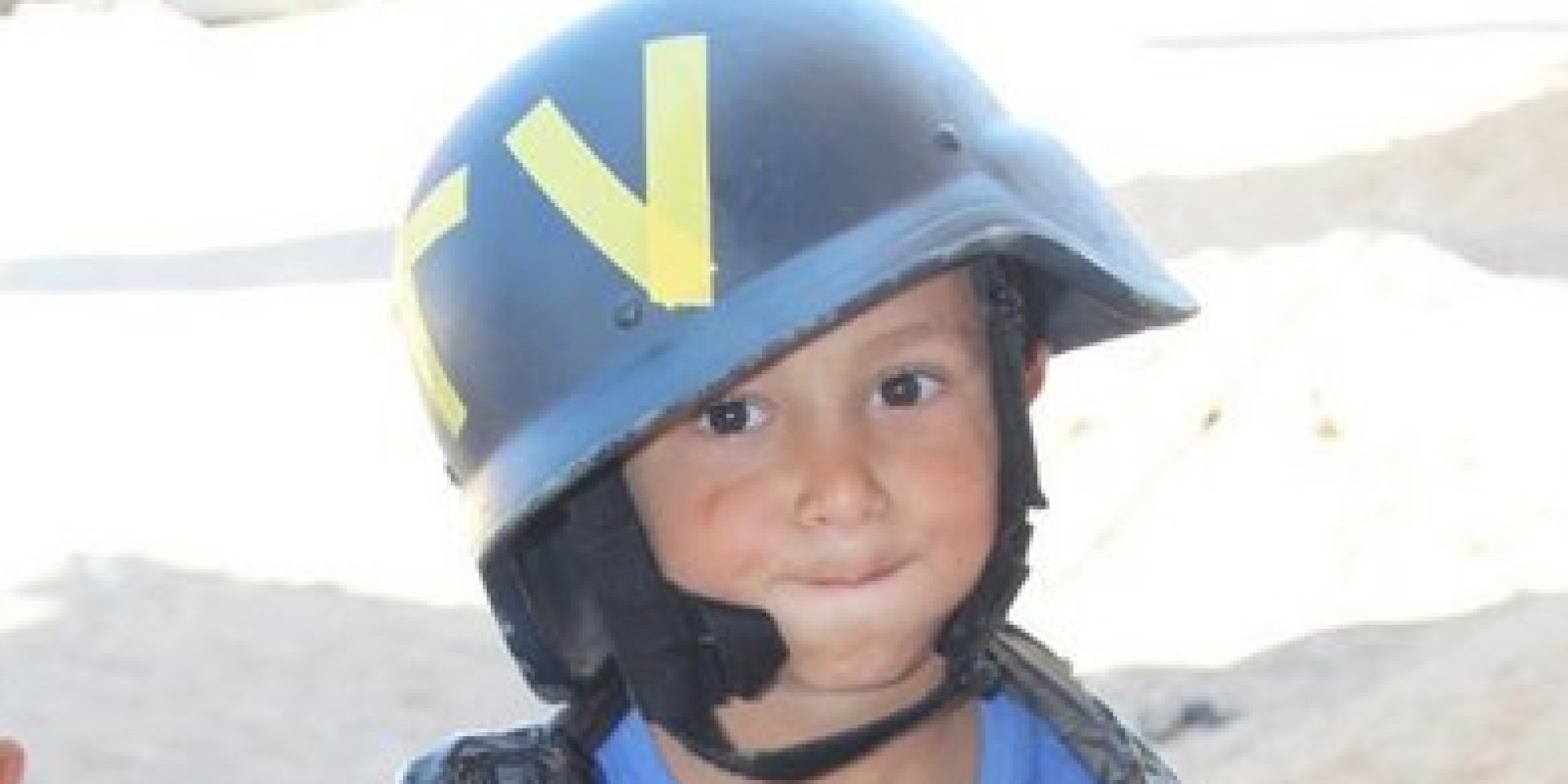 One of the most incredible pictures to come out of the savagery in Gaza was posted on Twitter on Thursday. Taken by Swedish Radio correspondent Johan-Matthias Sommarström, the image shows a small Palestinian boy who had dressed himself as a journalist with a "home made flak jacket".
Sommarström said he was approached by the boy as he returned to his hotel after a day of reporting in the beleaguered Strip. "I'm a journalist," the boy told Sommarström, who loaned him his helmet to complete the look.
Speaking on Swedish Radio, Sommarström later said: "For me the picture is a powerful example of children's strong will to survive. He has seen us journalists go in and out of the hotel, he has seen that we survive. I think that in his pretending play he wants to be like us, someone who survives."