The BBC brings us this…
But is it true?  And if not why is the BBC putting up demonstrably false claims from Labour as headline news?
The BBC is scaremongering about the NHS by peddling Labour's propaganda without question in an obvious and disgraceful attempt to smear the Tories….the morning news has been pumping out stories of the Tories' 'secret plan' to reduce nursing numbers….Labour will, according to the BBC, provide 10,000 more nurses…paid for by…well the BBC doesn't tell us……here's their web report….
'The number of NHS nurses in England is set to fall by almost 2,000 over the next four years according to government projections, Labour has said.

Accusing the Conservatives of having a "secret plan", Labour's Andy Burnham said fewer nurses would push hospitals "over the edge".

The health document Labour is basing its claims on says fewer nurses would be employed because of "affordability".'
A 'secret plan'?  Or a freely available document?  A plan based upon 'affordability' or a plan based upon efficiency and making the most of every penny?  Here's what the report actually says, as opposed to what the BBC tells us…
Firstly, planning the future workforce is more than just a numbers game. In order to ensure that future patient needs are met, we need to make sure that we have enough people with the right skills, values and behaviours available to work in the most appropriate setting for patients. The Five Year Forward View sets out new models of care that span both community and hospital settings. These models will require new skills and ways of working, and increasingly, we will need to commission new types of professionals, rather than just more of the same.
In other words it's about retraining and moving staff around to provide a better service as well as adding staff numbers…working smart not just piling in large numbers of nurses who may not actually improve things but provide good headlines for politicians.
Here's a graph that tells us nursing numbers are forecast to rise…though still under the level required to match demand…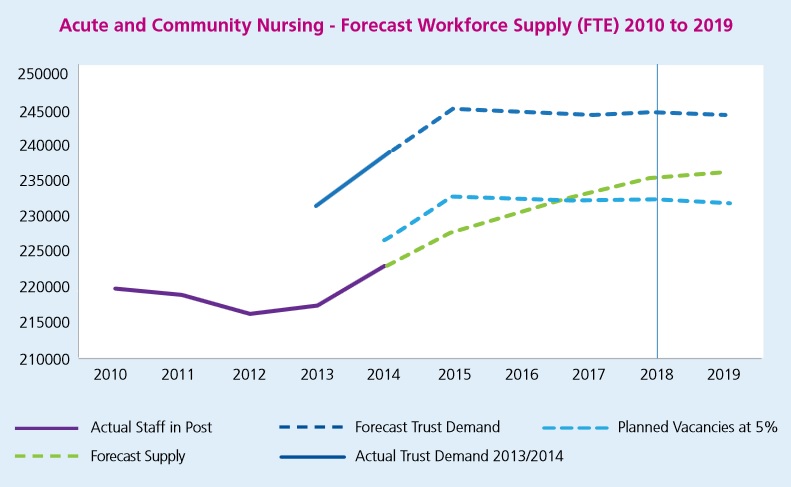 And if it were a numbers game the number of nurses would seem to be going up not down…as for GPs and many other staff…

Here's more of what the report says about recruitment…..
Overall, we are commissioning more education and training than ever before, with over 50,000 doctors in training and over 37,000 new training opportunities for nurses, scientists, and therapists. In many ways this is a good thing. But there are three reasons why we cannot and should not continue historic levels of growth in all areas indefinitely.

Last year, we significantly increased the number of commissions we made for adult nursing over and above local plans, representing a 9% increase on the previous year. For 2015/16, we plan to continue the growth in nursing numbers to meet safe staffing levels by commissioning 555 additional training posts, a further increase of 4.2%. This means in the two years of HEE we will have grown adult nursing training places by 13.6%.

We will increase children's nurse commissions in 2015/16 by 161 (7.4%). This training is forecast to produce 5,876FTE growth in available supply by 2019, a 35.6% increase in this workforce, which should be sufficient to meet anticipated patient need in acute settings.

 We have also made a significant investment in paramedic training – a 87% increase over two years, providing for 1,902FTE growth in available supply over the next five years.

HEE's investment plan shows our intention to increase paramedic training commissions by 378 places in 2015 to 1,231, an increase of 44.3%. This will mean HEE has increased commissions by 576 over two years (87%).

We have produced a phenomenal increase in the Improving Access to Psychological Therapies (IAPT) workforce. We will commission an additional 190 this year (25% increase) which will contribute to a 1,548 FTE growth in available supply (41%) over the next three years.

We will commission an additional 100 training posts for mental health nurses in 15/16 (3% increase) contributing to a forecast growth in available supply of 2,630 FTE (6.8%) over the next five years.

We forecast that if our planned training levels are achieved, then the number of GPs available for employment would be 36,830 FTE by 2020, an increase of 14.8% from the 32,075 FTE recorded as being employed in September 2013.