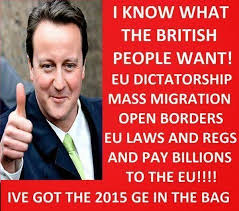 A counter to the BBC's endless pro-EU campaign propaganda……can we have a good free trade deal and no swarms of immigrants?
Cameron insists no-one will be keen to engage with an independent Britain and arrange trade deals with us, name-checking Canada as an example of why that is not a good idea, which is odd really as he himself was pretty keen for the EU to do a deal with Canada in 2012 as such a deal would bring enormous benefits to the UK and the EU…
27  Jan 2012 Toronto Star, page A4

OTTAWA— British Prime Minister David Cameron is urging his fellow European leaders to move quickly to sign a free-trade deal with Canada.

He said opening up export markets for the European Union's 27 member countries is a key part of an urgently needed effort to strengthen the continent's economies.

"Let's get EU free trade agreements with India, Canada and Singapore finalized by the end of the year," he said in a speech at the World Economic Forum in Davos, Switzerland.

If these trade liberalization deals were in place, it could generate an additional $118 billion in economic activity in EU countries, Cameron said.
Landmark trade deal between the EU and Canada will benefit the UK economy and businesses by over £1.3 billion a year.

The overall expected benefit to the EU is £7.9 billion and £5.6 billion for Canada each year. Canada will also gain greater access to a single market of 500 million people. The boost to Canada's economy is C$12 billion and the equivalent to 80,000 jobs.
Hang on…free trade that's very beneficial to the EU and Canada, amongst others?…and yet no freedom of movement of labour?  How can that be the BBC asks?  Was it the BBC asking or me?  Just me.
Would the EU lock the UK, the 5th largest economy in the world and an important trade partner with the EU, out of its markets?  Hardly seems likely when it is committed to open markets and free trade……import tariffs very low or zero…..
The EU benefits from being one of the most open economies in the world and remains committed to free trade.
The average applied tariff for goods imported into the EU is very low. More than 70% of imports enter the EU at zero or reduced tariffs.

The EU's services markets are highly open and we have arguably the most open investment regime in the world.

The EU has not reacted to the crisis by closing markets. However some the EU's trading partners have not been so restrained as the EU has highlighted in the Trade and Investment Barriers Report and the report on protectionism.

In fact the EU has retained its capacity to conclude and implement trade agreements. The recent Free Trade Agreements with South Korea and with Singapore are examples of this and the EU has an ambitious agenda of trade agreements in the pipeline.
And to re-emphasise that….. the EU is only 10% of world demand….there is a whole wide world of opportunity out there…..and the EU is very keen to make deals with non-EU trade partners……
Over the next ten to 15 years, 90% of world demand will be generated outside Europe. That is why it is a key priority for the EU to tap into this growth potential by opening up market opportunities for European businesses abroad. One way of ensuring this is through negotiating agreements with our key partners.
Remember why Cameron lost the 2010 election majority?…because he's a slippery, untrustworthy supporter of the European Union who used every excuse under the sun to slip his 'cast-iron guarantee' for a referendum….
Conservative leader confirms U-turn on his 'cast iron guarantee' that a Tory government would hold a public vote on the controversial treaty.

Confirming a complete U-turn on his "cast iron guarantee" that a Tory government would hold a public vote on the controversial treaty, the party chief said the Czech Republic's decision to ratify the agreement meant he could "no more hold a referendum on the treaty than … a referendum on the sun rising in the morning."
BRITONS have been robbed of the chance to vote on a power grab by Brussels despite promises of a referendum.

In the wake of the Lisbon Treaty fiasco, David Cameron vowed Britain would never again give away powers to Brussels without first holding a referendum.

In a spectacular U-turn, however, Mr Cameron has now backed plans to sneak changes into the Lisbon Treaty without triggering referendums across Europe.

It is a significant victory for German Chancellor Angela Merkel, who was last night dining with the Camerons at ­Chequers, the Prime Minister's country retreat in Buckinghamshire.
I imagine all Cameron's twisting and turning on the referendum will leave the way open for a judicial review and a legal challenge as he undemocratically suppresses the Leave campaign and misuses the resources of government to campaign for what should be a lobby group interest and not a government one….the referendum is after all supposed to be a vote of the people not the bureaucracy.
And one last look at the sell-out Cameron's untrustworthy judgement and nature…especially in light of his recent decision to make all schools academies…this is a bit ironic…from DV on 'A Tangled Web' in 2007
Well now, hasn't "Call Me [Dodgy] Dave" Cameron gotten himself into a real mess following his ever-so-clever idea to abandon English Grammar Schools in order to win plaudits for the left? Faced with a continuing revolt among MPs and grassroots Tories, David Willetts, the education spokesman, has announced that in some specific areas, new grammars could be built after all.  Two weeks ago Mr Willetts and Mr Cameron said selection by ability did not work and that no more grammar schools would be built under a Tory government.

Listen, I couldn't be more pleased than to see Cameron swing on this. His betrayal of our Grammar's is symptomatic of his more general betrayal of Conservative values. This man is a Vichy Conservative, and he has been destroying the Party that he leads. As if you needed any further evidence of Cameron's true values, just consider the fact that he has appointed former editor of the "News of the World", Andy Coulson, as their head of communications and planning. The "News of the World" is a scumbag rag. The fit with Cameron is perfect.