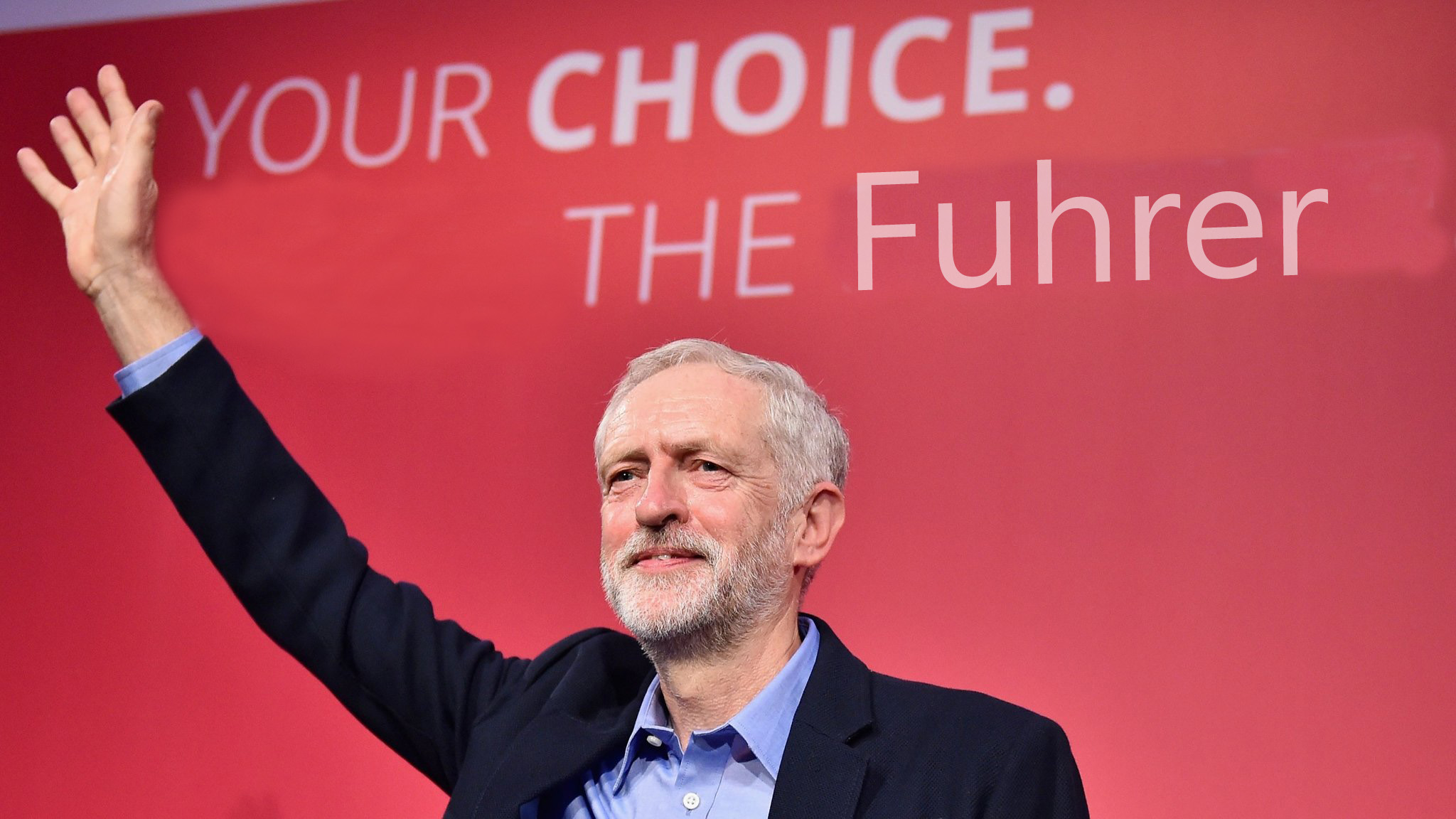 So Shami Chakrabarti has had her anti-Semitism inquiry and held a press conference to astound the world with its findings…apparently, and I paraphrase the BBC, there isn't much to worry about.  Labour is an anti-Semite free zone.  Pretty much.  Apparently.
The Labour Party is not overrun by anti-Semitism or other forms of racism but there is an "occasionally toxic atmosphere", an inquiry has found.
Curiously the BBC makes no mention of the attack on a Jewish Labour MP by one of Corbyn's Momentum Blackshirts only referring to a media scrum at the end of the event..no suggestion as to why there was a media scrum such as Corbyn not defending a Jewish MP at his own inquiry into anti-Semitism…couldn't make it up could you?  The BBC doesn't bother, it just ignores it here in its 'analysis' [LOL]….
There was a melee as the Labour leader was pursued out of the room by reporters and photographers.

And some of those attending were left bemused by Mr Corbyn's comments appearing to liken the actions of the Israeli government with those of so-called Islamic State.

The comparison was no doubt unintended but it was a reminder of the huge challenge facing the party if it's to encourage debate yet avoid causing unnecessary offence.
So Corbyn didn't intend to make such a comparison of Israel with the Islamic State…yeah right…Corbyn has form on this….remember his 'friends' comments about the Islamist terror groups…..watch the video and Corbyn's excuses for what he said ring hollow as he says Hamas is a peace-maker dedicated to the good of the Palestinian people and is not a terror group….
Corbyn definitely did compare Israel to the Islamic State and other terrorist organisations (not Hamas obviously!) and Shami Chakrabarti herself in her attempt to explain away Corbyn's remarks made exactly the same comparison as she said that what was being compared was Jews being asked to justify Israeli actions and Muslims being asked to justify the actions of Muslim terrorists….in other words she compared Israel to Islamic terrorists just as Corbyn did.
Why can the BBC not produce an analysis that suggests the inquiry was a total whitewash...the Telegraph can….
Anti-Semistism a report a 'whitewash'
Jonathan Sacerdoti, director of communications at the Campaign Against Anti-Semitism, has said Labour's report was a whitewash and attacked Mr Corbyn.

He said: "It did not examine the disgraceful cases of anti-Semitism in the party, or their even more disgraceful mishandling by the party leadership, including Jeremy Corbyn, who presides over a regime of the lightest slaps on wrists for even the most offensive and deliberate anti-Semites.

"Inexcusably, the inquiry proposes making it harder to suspend anti-Semites and keeping suspensions secret so as not to affect elections.

"Additionally the inquiry dismisses any claims of anti-Semitism arising from sharing a stage with anti-Semites, and suggests that any anti-Semitic incident coming to light after more than two years should not be considered – a limitation period so short it has no parallel in any other disciplinary regime that we are aware of.

"Apart from imploring Labour activists to stop calling Jews 'Zios' or accusing them of supporting Nazi policies, this inquiry is a vague, meaningless whitewash that will do nothing to rid Labour of anti-Semitism or address the total absence of leadership it has shown on this issue.

"For Jeremy Corbyn to compare Israel to Isis during his event dedicated to anti-Semitism only goes to show just how little grasp he has of this pressing problem for his party."
Justin Webb tackled Chakrabarti on Corbyn's comments on the Today programme but he made no comment about her own remarks as she in effect also labelled Israel a terrorist sate…and no mention by Webb of this revealing bit of film from the end of the inquiry press conference that shows Corbyn on very friendly terms with the same man who attacked Labour MP Ruth Smeeth, he knows him so well that he has his phone number…..
Turns out Chakrabarti is quite the loyal little lapdog as she unquestioningly defends her new found master…just as she praised and defended the Islamists of Cage.