You may have noticed recently that the BBC frequently refers to the Daily Mail apology to the Mahmood family for a Katie Hopkins' article that suggested the reason they were prevented from travelling to the US was not an outrageous case of Islamophobia but perhaps there were sufficient grounds for doing so.  Not sure why the Mail surrendered so easily and not only apologised but coughed up a large amount of money as well….Hopkins was only reporting the facts as she understood them, if in a rather strident manner.  If she is wrong then so is CBS, LBC and of course the US Homeland Security…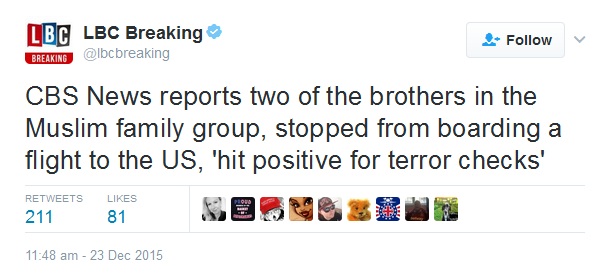 One of the brothers was stopped from entering Israel and was detained for 8 days along with a group of other Muslim youths, and Homeland Security found that there was a Facebook page apparently originating from the Mahmood's home address that linked to Islamist extremists.
Not proof of anything but enough to raise suspicions and all Hopkins was doing was countering the wave of media reporting that failed to report the whole truth…
My opponents can carry on with their lazy labels. Call me racist (Islam is not a race). Report me for my tweets. (You can't prosecute the truth) and threaten my life. (Nothing new from the peace-loving liberal left.)

But it will not stop me from giving balance to the total mis-telling of a story about this lovely British family off to Disneyland to make dreams come true. 
Who was it though that stirred the pot and encouraged a claim against the Mail?  Our old friend from the Muslim Council of Britain [That extreme group] Miqdaad Versi whom the BBC is currently eulogising…
Miqdaad Versi sits in front of a rather geeky-looking spreadsheet at the offices of the Muslim Council of Britain in east London.

He is the organisation's assistant secretary general, but the task in front of him is a personal project.

The spreadsheet has on it every story published concerning Muslims and Islam that day in the British media – and he is going through them looking for inaccuracies.
Trouble is Versi has a rather narrow targeting range…seemingly consisting only of 'right-wing' media.
His complaints are trivial, mendacious and intended to silence the media if only by making their lives very difficult by forcing them into court whether they are right or wrong…such as in the Hopkins' case where you might think the Mail had a good defence.
We've had a look at one of his previous efforts…and once again it seems that he is using Muslim lawfare to muzzle the Press with the BBC backing him all the way.