Our blessed 'Saviour of the Human race'…Lily the Pinko Limpet Allen….her 'medicinal compound'?  A concentration camp, a compound, for the Rich probably.
Is there any cause too fashionable for Lily 'The Limpet' Allen not to attach her name to?  Refugees, wicked capitalists and now the victims of a towering inferno caused by neo-liberal greed and class discrimination.  Guess her record sales are in decline….93 in the charts last time I heard.   Yep….new career beckons….'Voice of the Dispossessed'. Her bank balance will be depleted pretty quick if she keeps doling out the largesse for every trendy cause whilst her music career fades away.
Hmmm…does she in fact give any money to these causes or does she just grandstand on the Telly for effect…look at me…I'm Lily!  I'm so good!  Love me!
Maybe we should introduce a celebrity levy, you know in emergencies just like Corbyn wants to take-over houses that are unoccupied at present.  Yeah….a celebrity tax on all those who posture and preen for the Media as they showcase their virtuous selves declaiming against society and the Rich [erm…themselves then]….if they don't want to be rich let's help them out and requisition their bank balances to help the victims…I'm sure they'd be much more appreciative of a cash handout rather than some self-serving sentiments from a B-list celebrity showboating on the Telly.  Let's face it most of the money Allen earns comes from the poorer end of society buying her records…time to give some back?
Just why does the BBC think we need to hear from the likes of Lily Allen?  Why does the BBC think a soon to be washed up celebrity has more to say that is of interest or relevance than say, the leader of RBKC Council or indeed of anyone they could just pull off the streets?  Why a self-promoting little rich-girl?
Newsnight only dumped Allen when they secured an interview with someone relevant…
Newsnight editor Ian Katz has said, however, that Allen was removed from the programme solely because prioritising an interview with Nick Paget-Brown, the leader of  the Royal Borough of Kensington and Chelsea council, made more sense.
Why was she pencilled in at all?  Not as if she is trying to calm things down and ensure accurate information gets out there…she is doing the exact opposite…seemingly trying to whip up anger, discontent and riots with conspiracy theory rantings about the number of deaths and a cover-up by Officialdom….the official confirmed figure for dead and missing is 58, so far.  Allen has been promoting a figure of 150 and now goes further suggesting 580….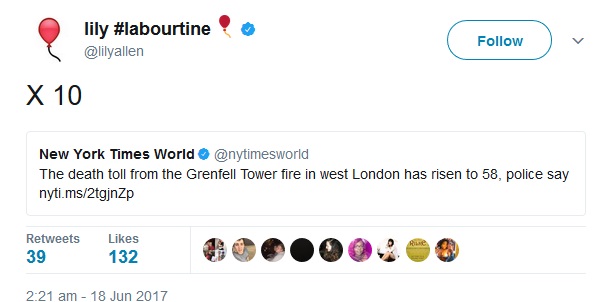 Why would the BBC ever contemplate giving her airtime when she has nothing to do with the fire, she is a Labour activist and is clearly intent on spreading dangerous and inflammatory misinformation?