Typical BBC effort to hide the inconvenient truth that Brexit hasn't wrecked the economy…far from it…….UK manufacturing hits four month high and the BBC hardly notice at all, the report not being  on the frontpage, nor the UK page, not even top billing on the business page...merely a small additional story buried in the small print half way down the page…..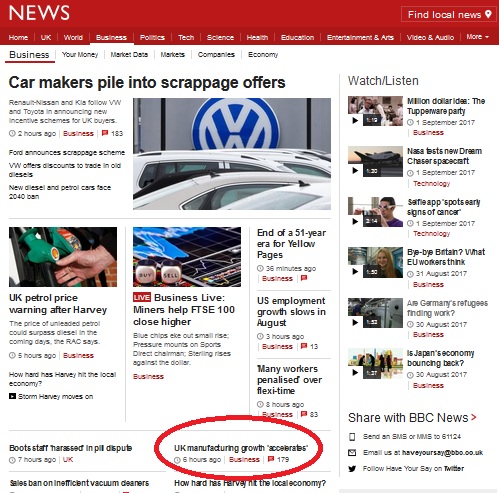 Note that the PMI figures are also surging…have you heard the BBC mention that?  Probably not as they tend not to when they are on the up…conversely when they dip under 50, however minutely, the BBC dedicates the whole day to reporting this economic disaster...telling us we could be heading for recession #duetobrexit.
British manufacturing exceeded expectations last month as growth accelerated to hit a four-month high, according to a closely watched survey.

IHS Markit's UK manufacturing purchasing managers' index (PMI) jumped to 56.9 last month, higher than the 55 that had been expected and above the 55.1 reported in July. Any number above 50 suggests growth in the sector's output.

The survey found "broad-based expansion" across all products, and production rose at the steepest pace in seven months, underpinned by more work received, especially in Europe, the USA, China and Australia.
The BBC's reluctance to report 'good news' whilst highlighting the bad [and often not bad….merely the BBC's own negative interpretation] has been noted again and again…