"Cutting on the bias" in wood or textiles means cutting diagonally against the grain so that it accentuates the lines. That's what's going on at the BBC's special section on the US 2012 election. It hasn't been updated in a couple of days, and here's how it appears now: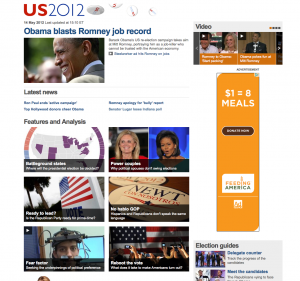 White House propaganda, White House propaganda, and more of it, with a couple of fluff pieces thrown in. The top story at the moment is the BBC's explanation of the President's first ad attacking Romney for his association with Bain Capital. It's become more balanced than it initially was, as people here pointed out earlier this week, and presumably after somebody at the BBC realized it. It's still not entirely balanced as they've got the President's ad embedded right at the top of the piece, while including only a link to Romney's rebuttal. The link below that is to a second attack ad on Romney on the same topic. No links to anything from Romney.
The "Latest news" section is slightly out of date, but the bias is still obvious. Besides the news brief about Ron Paul ending his "active campaign", the other featured reports are about Hollywood feting the President for His recent endorsement of homosexual marriage, a piece about Romney reacting contritely to that Washington Post hit piece – now proven to be less than accurate, although the BBC has never bothered to inform you of that – about him allegedly bullying a homosexual a few decades ago (another score for the White House campaign machine), and a piece lamenting Sen. Richard Lugar's defeat in the Republican primary for Senate in Indiana. We're told by "correspondents" that this will make the Senate more partisan than ever. Translation: the Democrat majority won't get their way so easily. This is a biased position, of course, shown to be all the more ludicrous since the Senate just rejected the President's own budget proposal 99-0. You can't get more bi-partisan than that, which is why the BBC has so far censored that news.
The video features also reveal the biased grain in the BBC's perspective on the US elections. The section on Battleground States isn't all that bad in general, and I won't try to read too much into a perceived emphasis on Democrat optimism. But there is a blatant lie in the section on Wisconsin. You have to click on the State in the Battleground feature to read the following:
Barack Obama will be hoping to hold on to the sizeable majority he won in 2008, and will be helped by the state's strong union movement. The unions have been leading the opposition to new Republican Governor Scott Walker's controversial bid to restrict workers' collective bargaining rights. The proposals led to mass protests and a successful attempt to trigger a recall election for Mr Walker's job.
The bit I've bolded is, quite simply, a lie. What Walker did was restrict the right of public sector unions' rights on collective bargaining. The BBC admitted that part when they first began reporting on this story, yet here they deliberately mislead you to think it's an attack on all workers, full stop. I simply don't accept the excuse that this was simplified due to space constraints or because it's an unimportant distinction. And of course, by "controversial", the BBC means that the unions didn't like it. Another issue of bias here is that the BBC gives you only the Democrat unions issue, and not the budget disaster Gov. Walker faced upon taking office, which just as much a concern for voters. The budget concern is why Walker sought to restrict public sector union power and their burden on the State. It's not all union workers everywhere, only the public sector ones, which is why I maintain that it's an important distinction. As most people here will know, their coverage of the Wisconsin situation has been extremely biased and at times dishonest. Plenty of background can be found here, here, here, here, and here. I don't expect the BBC to update this section with the news that the union-backed candidate lost the Democrat primary for the recall, which kind of puts a damper on the whole issue, making the BBC's take even less useful.
The magazine piece explaining why candidates' wives don't win elections is reasonable, no bias there, for a change.
Next up is the piece by Justin Webb – Mark Mardell's predecessor as North America editor, whose gushing reports about The Obamessiah during the 2008 election won him the coveted seat on Today – explaining why the Republicans aren't ready to lead. My fisking of ol' Justin's piece is here.
Then you get Jonny Dymond's biased piece telling you how the Republican Party is just for white men, freezing out Hispanics. It's just one in a series of race-baiting pieces from Dymond, whose remit seems to be proving that Republicans and any opponents of the President are racist. See here, for example.
If you still aren't convinced that Republicans/conservatives are awful, then you can move on to former Obamessiah activist Matt Danzico's "bespoke" magazine piece about yet another one of those studies showing conservatives are inspired by negatives while liberals are inspired by positives. The study's goal was to prove a biological and cognitive difference between liberals and conservatives. I won't bother to address how this leads us down a path to eugenics, but suffice to say that it's always liberals these days who want to use "science" to prove that they're superior. Danzico, of course, slightly misrepresents the findings. Another way of describing the findings can be found in the University of Nebraska's own school paper: conservatives tend to be more realistic while liberals tend to be more idealistic. I find it amusing that a student journalist spins the study less than an adult professional journalist.
And finally, there's Adam Blenford's piece worrying that too many people in the US aren't registered to vote. Setting up the article by using a Republican as an example of a dedicated voter betrays the bias, if one understands that voter "disenfranchisement" is the primary motivation behind ACORN and Left-wing activists who encourage absentee ballots (Blenford uses the youth vote, another Left-wing target demographic, as his example there), same-day registration, and who attack laws requiring ID to vote, all methods behind voter fraud. Some people here may remember Newsnight hiring Left-wing activist and "investigative journalist" to do a special report telling you that only white Republicans engage in voter fraud, and specifically to disenfranchise black people. He also defended ACORN against charges of voter fraud by saying that, even though they do it, it doesn't affect elections. If that's not enough to convince you, just do an internet search with the term "voter disenfranchisement 2012" and see who's worrying about it and what issues are the focus. It's obvious.
While not every single report is riddled with bias, much of it is, and nearly every single piece on the BBC's US Election 2012 page is written from a Left-wing perspective one way or another. There's no memo handed down to make this happen, no directive from on high. It's due to the BBC hiring what seem to be exclusively Left-wing staff. If they all think that way, there's no need for an organized institutional bias: it will happen naturally.